Ranjith Annepu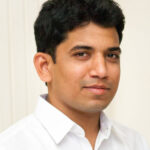 Co-founder, be Waste Wise
Damage to public health and quality of life –because of reasons like improper waste management, which already have technological solutions– keeps me on my feet.
Ranjith Kharvel Annepu is a Co-Founder and Curator of be Waste Wise. He is a consultant for the World Bank and the India Coordinator for Columbia University's Global Waste-to-Energy Research and Technology (WTERT) Council. Annepu also worked as a consultant for EcoOffset and advised Sustainable WasteResources International on solid waste management. His work focuses on integrated solid waste management and his most recent publication was Observations from India's Waste Crisis, which was republished by many newspapers and magazines. Earlier to this, two years of his research was published as Sustainable Solid Waste Management in India, which the Open Magazine described as "one of the most detailed reports yet on (Indian) urban waste". A research blog based on this report is a recommended reading for a sustainable development course in University of Minnesota. The report and the blog were also widely cited, included as a resource in many databases and republished in the form of various abridged versions.
He holds a Master's degree in Earth and Environmental Engineering from Columbia University and a Bachelor's degree in Chemical Engineering. He wrote at blog.wtert.org and maintained swmindia.blogspot.com.
Contributions
be Waste Wise Co-founder, Ranjith Annepu Recognized among 40 Under 40 by Waste360
June 16, 2017 from our Blog, News Ranjith Annepu has created and is running be Waste Wise since 2013. Read More



Interviews with Julie Kearns & Moana Simas
May 24, 2017 from our Video Panels We organized a couple of conversations this week with two people working in the space of consumption in very different ways. Read More



Creating change through knowledge | An year in one post
January 30, 2017 from our Blog Results from 2016 show that we're moving towards the goal of an engaged global community faster. In 2016, we also started providing knowledge dissemination services. We made high-quality capacity building affordable by savings 65% of costs in a project funded by the European Union. Towards the end of last year, a student told us that be Waste Wise gives him access to diverse perspectives, easily. A scientist told us that our work helped his group reorient their research and provides new ideas. be Waste Wise's model of knowledge dissemination has a great potential to impact the world. The results show that we have just started scratching the surface.Read More



A Message From be Waste Wise's Co-founder, Ranjith Annepu
January 4, 2017 from our Blog Ranjith Annepu has a message for everyone, about PDFs, what can be done to disseminate knowledge, experiences in 2016 and people & organizations who played a big role in be Waste Wise's success. Happy new year!Read More



be Waste Wise's Journey in 2015 in Numbers
January 2, 2016 from our Articles, Blog Here is what we did in 2015 - represented in numbers. Read More



Culture, Consumption and Waste Management
September 7, 2015 from our The 2015 Global Dialogue on Waste, Video Panels Watch Diana Dehm of Trash On Your Back challenge and Ferran Rosa of Zero Waste Europe discuss culture, consumption and waste management as part of the 2015 Global Dialogue on Waste.Read More



Refuse Derived Fuel – To Export or Not
August 28, 2015 from our The 2015 Global Dialogue on Waste, Video Panels Watch Adam Baddeley (Eunomia Research & Consulting Ltd) and Stephen Wise (Ricardo-AEA) discuss the export of refuse derived fuel in UK and Europe as part of the 2015 Global Dialogue on Waste.Read More



Reducing Hunger & Food Waste
August 6, 2015 from our The 2015 Global Dialogue on Waste, Video Panels Watch Robert Lee (Rescuing Leftover Cuisine) and Hanna Morris (Food Shift) discuss reducing hunger & food waste as part of the 2015 Global Dialogue on WasteRead More



2015 be Waste Wise 30 Influencers – Individuals
August 4, 2015 from our Blog

We are proud to announce the list of 30 individuals who made it to our Waste Influencers List this year. Every person on this list is there because they communicated about waste management in a way that resonated with their ... Read More





2015 be Waste Wise 30 Influencers – Organizations
July 15, 2015 from our Blog

We are proud to announce the list of 30 organizations which made it to our Waste Influencers List this year. These organizations are here because they are effectively sharing stories about their work and solutions to waste management. They were chosen based on a ... Read More





2015 Global Waste Survey
April 1, 2015 from our Surveys Please take the 2015 Global Waste Survey to tell us what you want to know or discuss about waste in 2015.Read More



Interview: Co-founder Ranjith Annepu talks municipal waste in Mumbai around the world
March 31, 2015 from our Blog

"Waste can become wealth when you put a price on pollution and regulations are strictly implemented."

This interview was originally broadcast on tbs eFM's This Morning with host Alex Jensen on March 20, 2015.

1. ... Read More



Communicating About Waste To Create An Engaged Global Community
March 5, 2015 from our Blog Inaccessible Expertise

In 2013, I was at World Bank's Headquarters in Washington, D.C. to attend a forum on waste management. That day, in a single room, I was surrounded by so many world class experts that I felt I was ... Read More





Untangling behavioural drivers behind food waste
June 15, 2014 from our Articles, The 2014 Global Dialogue on Waste Why do apparently rational consumers waste so much food? The drivers behind food waste are complex and include food pricing, logistical and storage issues.Read More



Drivers and barriers to waste management in India and Nigeria
June 11, 2014 from our The 2014 Global Dialogue on Waste, Video Panels Watch Thomas Vogler and Edith Iriruaga discuss the barriers and drivers for improving waste management in India and Nigeria.Read More



Short-lived climate pollutants: Public Health, Climate Change & Waste
June 10, 2014 from our The 2014 Global Dialogue on Waste, Video Panels Watch Dr. Nimmi Damodaran and Gary Crawford discuss the impact of short-lived climate pollutants from waste management on climate change and public health.Read More



Waste collection systems in developing countries
June 5, 2014 from our The 2014 Global Dialogue on Waste, Video Panels Watch Dr. Linda Godfrey, Maria Tsakona and Dr. Sanjay Gupta talk about improving waste collection systems in developing countries.Read More



Relevance of landfills in developing countries
June 4, 2014 from our The 2014 Global Dialogue on Waste, Video Panels Watch Sandra Cointreau, Derek Greedy and Asit Nema discuss the Relevance of landfills in developing countries - Public Health & Quality of Life themeRead More



Food waste disposers can mitigate climate change and reduce costs
May 22, 2014 from our Articles, The 2014 Global Dialogue on Waste For climate change mitigation, food waste disposers are better than composting, waste-to-energy and landfilling. Their wider adoption calls for integrated decision making encompassing solid waste management and wastewater.Read More



The 2014 be Waste Wise 30 – Individual Waste Influencers
May 1, 2014 from our Blog 30 individuals who are effectively sharing stories about their work, insights about the waste industry and solutions. We call them Waste Influencers.Read More



Food waste disposal units – is the jury still out?
April 21, 2014 from our The 2014 Global Dialogue on Waste, Video Panels Watch Prof. Adam Read, Dr. Tim Evans and Michael Keleman discuss the relevance and sustainability of food waste disposal units.Read More



Appetite for reduction? Behaviour change and food waste
April 21, 2014 from our The 2014 Global Dialogue on Waste, Video Panels Watch Phillip Ward, Julia Hailes, Jonathan Bloom, and Dean Pearce discuss Behaviour Change and Food Waste as part of the 2014 Global Dialogue on Waste.Read More



Amplifying Voices to Bridge the Waste Solutions Expertise Gap – Results from our 2013 Global Dialogues on Waste
January 3, 2014 from our Blog, The 2013 Global Dialogue on Waste Through our 2013 global dialogues on waste, we amplified 20 hours of time from the best in waste into 500 hours of education. Twenty seven experts from...Read More



Integrating the Informal Waste Recycling Sector in Latin America
October 3, 2013 from our Articles, The 2013 Global Dialogue on Waste "When designing solutions for inteftrating informal waste recycling, we need an adequate understanding of how the overall system is currently working including both formal and informal elements". - Jane Olley This panel explored how solid waste management is different in the Global South, and in particular in Latin America and the Caribbean, and considers the benefits of integrating the informal sector into municipal waste management strategies.Read More