One Comment
Historical Perspectives on the Informal Waste Sector
Like most countries that are growing quickly and witnessing rapid urbanization, India is beginning to face serious concerns regarding the disposal of its waste. Until now, most urban local governments have adopted an approach to waste management that is neither sustainable nor particularly responsible – identifying landfill sites, filling them with mixed waste for periods that can stretch over decades, and eventually moving on to a new location.
The problem, though, is that leachate and toxins from untreated waste can affect a particular region for years, which is why municipal corporations are now finding it more and more difficult to appropriate areas to convert into landfills. In Bangalore, for instance, the residents of a village called Mavallipura, adjoining one of the city's primary landfills, resisted efforts to continue disposing of waste in their backyard in 2012; the result was tens of thousands of tons of untreated waste, deposited on the streets of the city. Chennai, on the other hand, is currently routing its waste to two peripheral landfills – both of which will be reaching the end of their lifespan by the end of the year. As of now, no replacement area has been found.
Ironically, urban authorities do not need to face the challenge of sustainable waste management on their own. Most Indian cities have a robust industry of waste 'experts' – collectors, transporters and even recyclers – who make a livelihood out of waste, albeit under the radar. Most households sell old newspapers and cardboard to their neighborhood kabadiwallas, but these men are merely the tip of the iceberg; in fact, the informal waste sector includes not just grassroot-level waste collectors, but series of middlemen who aggregate, sort and transport waste to the appropriate recycling facility – thus keeping it out of the landfill.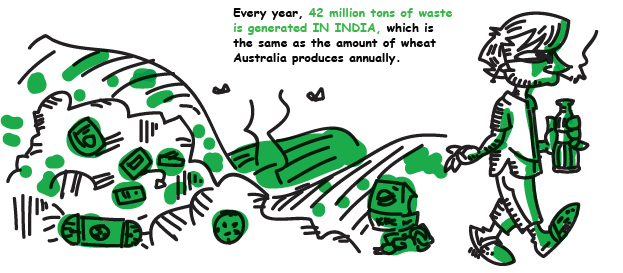 From a historical perspective, informal waste economies – at least as they are recognized today – began to develop around the 19th century. This was mainly in Europe and largely a by-product of urbanization and industrialization. As urban centres began to form and expand, the quantity of waste generated by them shot up as well. Simultaneously, the spread of the industrial revolution led to an increased demand for raw material, which proved to be infinitely cheaper when sourced from waste. As a result, an informal sector that began to identify items of value within waste streams, and then source, aggregate, process and eventually recycle them, began to form.
Spatially speaking, informal waste industries have organically formed in developing countries. While the first scavenging sectors sprung up in Europe, waste management systems in these countries were soon formalized and steered by local governing bodies, removing any room for unorganized private entities to continue making a living off waste.
However, the reverse has been true for countries such as India, Brazil, Serbia and Cambodia. These countries have witnessed rapid urbanization, which directly translates to a huge increase in waste generation. They also experience large-scale migration of unskilled, untrained labour towards cities, most of which have no option but to turn to informal occupations such as waste-picking. Moreover, as countries develop more, their urban centres tend to produce a higher proportion of dry waste (paper, plastic, metal and the like), which have huge markets as raw material for the manufacturing sector.
On the other hand, their local governance mechanisms have not yet developed to the point of completely taking over the workspace of informal players. In India, for example, municipal corporations have the infrastructure and capacity to collect an average of only 70 percent of municipal solid waste, and even less to actually process it. This creates the ideal working conditions for a parallel shadow economy to operate.
Very few attempts have been made to actually map out and quantify the informal waste industries in different countries. Largely, this is because it's extremely difficult – most waste-pickers and small-scale processors work under the radar and prefer to keep it that way, so as to avoid any form of harassment from city authorities. The sector itself is also a fairly disorganized one, with a huge overlap between activities, scale and hierarchy, making it tough to actually categorize its layers. However, there are exceptions to the rule. The Brazilian government, for instance, has formally recognized waste-picking as an occupation and included it as a category in their official census. This has also allowed it to introduce various schemes to better incorporate these entities into formal waste management mechanisms.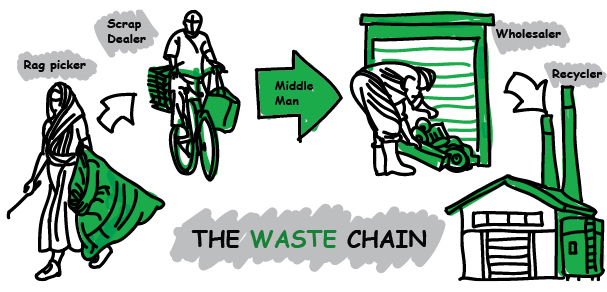 In doing so, Brazil has tapped into a potential answer to waste management concerns that most developing countries can learn from: the informal sector has huge capacity for keeping waste out of landfills. As a community, these players have a lot more collective experience in dealing with waste profitably (and as a consequence, responsibly) than most local governments. They have organized themselves into a form of hierarchy based on scale, with lower-rung rag-pickers accessing waste from dumpsites, landfills and formal collection cycles, and higher-level middleman aggregating and segregating waste streams according to market demand. Scrap-dealers at the highest end of the waste chain deal with hundreds of tons of a particular waste category on a daily basis, supplying in bulk to manufacturers looking for cheaper sources of raw material.
Incorporating parallel economies into our formal mechanisms is far from an easy task; it involves policy-level decisions and some forceful execution to actually leverage the potential of the informal sector. On the other hand, given the kind of waste crisis that Indian cities are facing, this doesn't seem to be an option we can ignore.
This article was written by Kavya Balarman and illustrated by Satwik Gade as part of our informal waste series.
Sources:
'Municipal Solid Waste Management in Indian Cities – A Review' – Mufeed Sharholy, Kafeel Ahmad, Gauhar Mahmood and RC Trivedi
'Waste Picker Cooperatives in Developing Countries' – Martin Medina
'The World's Scavengers' – Martin Medina
'Statistics on Waste Pickers in Brazil' – WIEGO